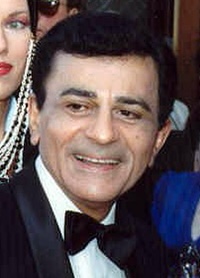 Pepe Forte and Hispanic Radio host of "El Atico de Pepe" show in Miami visited Casey Kasem's tomb at a cemetery in Oslo, Noruega and paid respect to the great man who brought happiness to millions through his magic's voice on the American Top 40 from 1970-1988.
"Keep your feet on the ground while reaching for the Stars" Casey Kasem (1932-2014).
Pepe Forte posiblemente fue el único aficionado de Casey Kasem, que le rindió homenaje y respeto al gran locutor de Radio en Oslo Noruega en nombre de los Cubanos y millones de oyentes del Mundo entero.
Pepe le rindió merecido homenaje y dejo en esa commovedora transmisión desde Noruega; el nombre de todos los Cubanos aficionados y oyentes del American Top 40 en estaciones ya desaparecidas como WQAM y WIOD en los 70's en Miami, Florida
"Keep your feet on the ground, and keep reaching for the stars." Casey Kasem
American Top 40 by Casey Kasem
© All Rights Reserved 2021 By Rigo Muniz